Do you look at your bookshelves and think - WHAT'S GOING ON HERE?!
Does your bookshelf constantly distract you from reading a good book?
Is it messy, overflowing, and quite frankly – not very pleasant to look at?
If you said yes, you're not alone. Most people we meet need help to organise their bookshelves before photography, and once finished, tell us they'll never let them get disorganized again!
Bookshelves can take up a lot of real-estate space in our homes so our resident SUPER SHELF ORGANIZER Anne Linke-Waldron gives us the tips and tricks she uses to make her bookshelves, which she shares with 3 boys, calm and organised, ensuring that when she does have some quiet time to herself – there won't be the distraction of an overflowing bookshelf.
At Janice Dunn Estate Agents we love giving our clients the tricks and tools to easily spruce up their homes. Whether you're looking at selling or simply wanting to create a more calming sanctuary to spend time in, we hope these simple steps can inspire you for an easy fun project at home that can be completed alone, or with the help of your little ones.
Before we start sorting anything, empty the bookshelves you will be working on and wipe them down. There is nothing more important than a clean workspace, and if you use a citrus smelling natural cleaning product you will have the added benefit of feeling alert, energised and inspired.
Bookshelves don't need to be just for books!
Time to decide what you want on your selves:
Collect some objects that create a feeling of calm, pleasure, or joy, such as a candle, vase or any little mementos you have from holidays or special days with family and friends
Choose your favourite framed photographs or artworks, ones that make you smile when you look at them
Bring some nature in, find a nice pot plant to fit the shelf, not only will it be pleasing to the eye, multiple studies have proven that indoor plants keep you healthier, improve your mood, reduce fatigue, lower stress levels and much more
And of course collect books, whichever you want to organise into your bookshelf
Put everything else in a storage box – keep aside until you are certain you have chosen enough to make your bookshelf work for your space.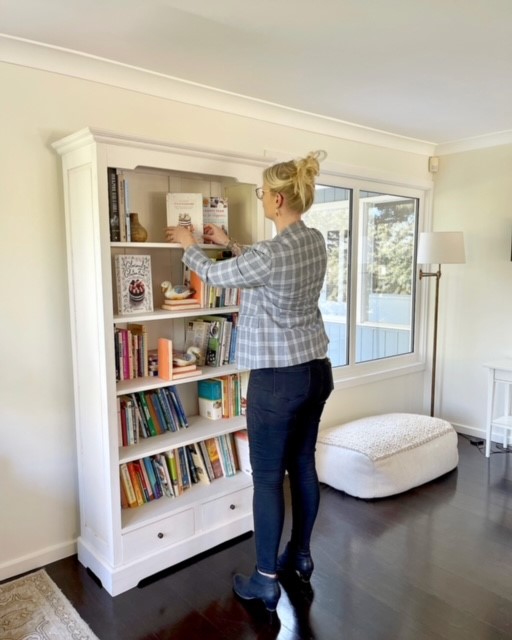 Now that you see all the items in front of you its time to decide your theme:
a classic, structured, sort by theme/author……or a colour organised bookshelf creating a rainbow across the space.
Both ways work fantastic and will make your shelf a standout.
Colour co-ordinated theme:
Grab your books and focus on the colour of their "spine"
Put these into little mountains of their colours. Don't worry if you have some odd ones, or if you don't have all the rainbow colours present, it's about grouping and harmony between the colours and books.
Classic theme:
If you prefer structure then you can sort by:
Author
Genre
Size ( height)
Everyone is different, whatever works for you!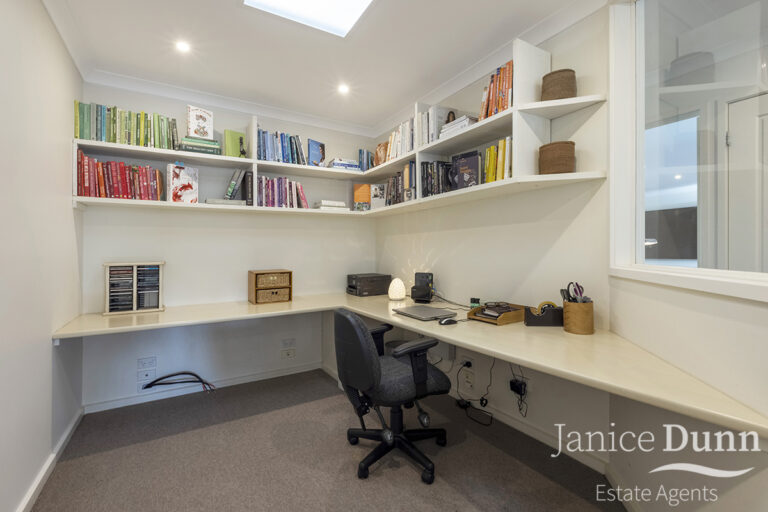 Heavy and bulky items first:
A really important step is to put all the larger items such as heavy books, a basket or a chunky vase, at the bottom of the bookshelf.
These items will ground the bookshelf rather than overpower it.
Vary vertical and horizontal.
Start organising your shelves one at a time – this is where the fun starts!
We will be creating visually appealing shelves by alternating between a neat pile of books, to traditional vertical books then introducing objects to balance the space – always keeping in mind the principle of 3's
Place a neat pile of books vertically, lean them onto the side of the shelf so they don't fall
Focus on going from taller to shorter creating balance.
Now place a photo frame or a little meaningful item, or a sturdy vase next to it to mix it up a bit
Another look can be a "pyramid" of books. What I mean by this is, choose a few books, stack them horizontal from big to small so they create a pyramid look. To finish off that pyramid put a little item on the top or even just put a special book vertical on top of it as a feature. We are trying to add height and a variation of interest to create interest for the eye.
Another variation could be to slightly tilt the books and make them look "out of order". Start little and work your way through each shelf, don't be scared of mixing it up.
Make it personal
Include a couple of meaningful items to the shelf, it will create a shelf full of warmth, harmony, and memories. This can be anything from a photo, to a stuffed animal, a candle, crystals or a souvenir, anything that you think might sync with the colours and display of your books. Round and cylinder-shaped items always work well, as they balance the book shapes and it's very soothing for the eye.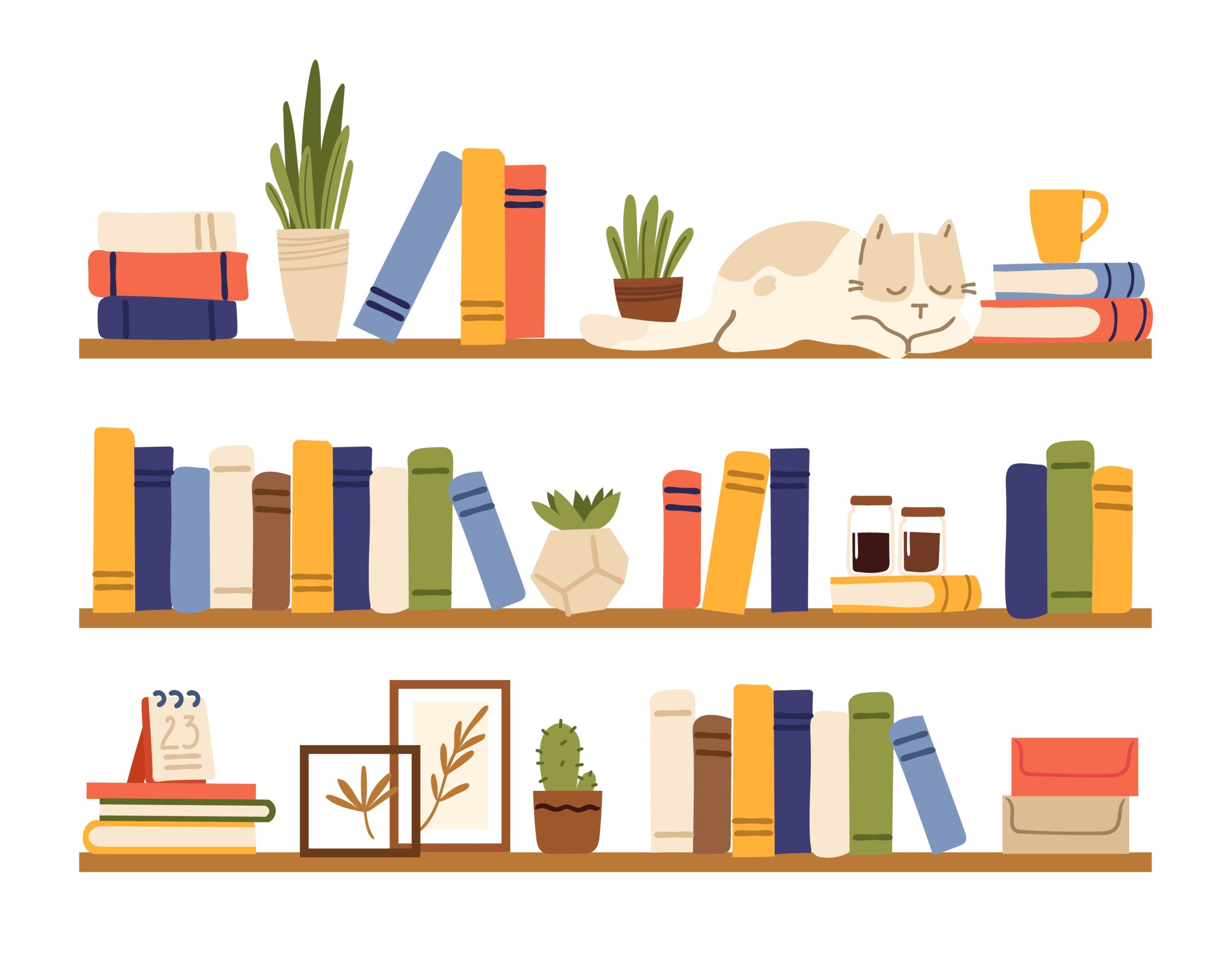 Don't overthink, just have fun!
Make sure you step back in between, look at the progress, edit if you have to and mix it up where you can.
Adding some minimalist styled shelves between full shelves can create depth and visual space.
Try to have a minimalist shelf in between as it creates depth
A shelf is there to be used, so try and leave books that you might use more often accessible. A great example of this is making your favourite cookbook into a featured book, which can sit on top of one of the book pyramids.
Play around and mix it up.
In the end, your goal is that the bookshelf complements the rest of your homes' style.
You will be amazed at how calmer you will feel when you are looking for your next "weekend read" once your bookshelves are organised.
Need help styling your home for sale? Call one of our Team today!