We had an amazing chat with the guys of Quick 'n' Slick Removals, who are quickly becoming one of the most trusted removalist services on the Mornington Peninsula. Their website launched last week to streamline their processes and make it easier to book a quote.
Their reviews and reputation are exceptional. They have everything needed for success – a cute mascot, a smart business idea and genuine love for people.
As a Real Estate Agency, we feel clients struggle to find the right support to move their treasured possessions. We want to spotlight this young and fun business owned and run by Frankston South locals Dane and Mark.
What inspired you guys to start a removalist company?
Dane: "Basically we got lucky. Mark worked for another removalist company. He didn't have a very good boss. I won't name them…And then I basically lost my job, because of Covid, I was in construction and we simply got lucky.
Two years earlier, I did an 'Airtasker' job for a lady and she sent me a message asking me if I wanted to move her warehouse. I looked at Mark and said 'Hey man do you want to work with me'. We did that and it took about 3 weeks and at the end we looked at each other and said 'why don't we try and make something out of this?'. That's pretty much how we got started."
Mark: "I called Dane and told him I just left my job and I'm all in."
And then it became the real deal.
Dane: "That was the bit that scared me the most. We had to find work now, as Mark was relying on that income now too. Covid was bad for some, but good for us."
What was your mission at the outset?
Dane: "We just wanted enough work to get by at the start, but before we knew it we started to get some stronger branding and word of mouth started to get around. Pretty much since last year December we have been booked out every day. I wouldn't say we have set goals, but just rolling with the punches".
Mark: "Just to continue to grow as much as we can."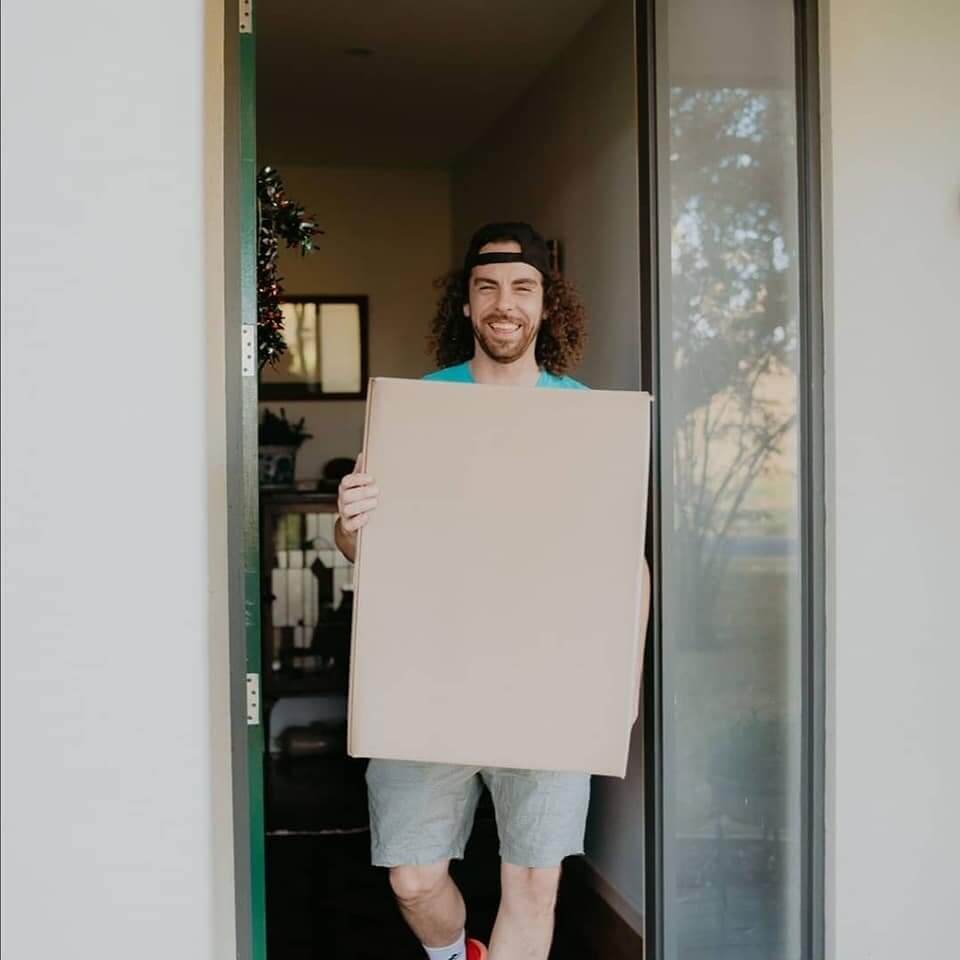 We love your marketing, who did it?
Dane: "Burst Graphics did our logo, our truck wrap and our website. They are amazing. They are genuinely world class. I had high expectations of them and they exceeded that."
Mark: "Their communication was amazing."
What makes your removal service unique?
Dane: "I genuinely think we are the funniest crew around. We try and make people laugh a lot."
Mark: "I would almost say that most of our clients really love working with us."
Dane: "We try make it a fun day. We are having good conversations. We are all about telling a joke and having fun. We are obviously very careful with people things and try to be a quick as possible."
Mark: "There's obviously a lot of unusual requests, I would say we go above and beyond people's expectations, dismantling Gym-Equipment, crazy fridge…"
Dane then joked around saying: "We are not doing fridges anymore."
Mark continues: "Bulky items and stuff. I worked for a couple of removalists before and they definitely would not have attempted some of the things that we have made possible."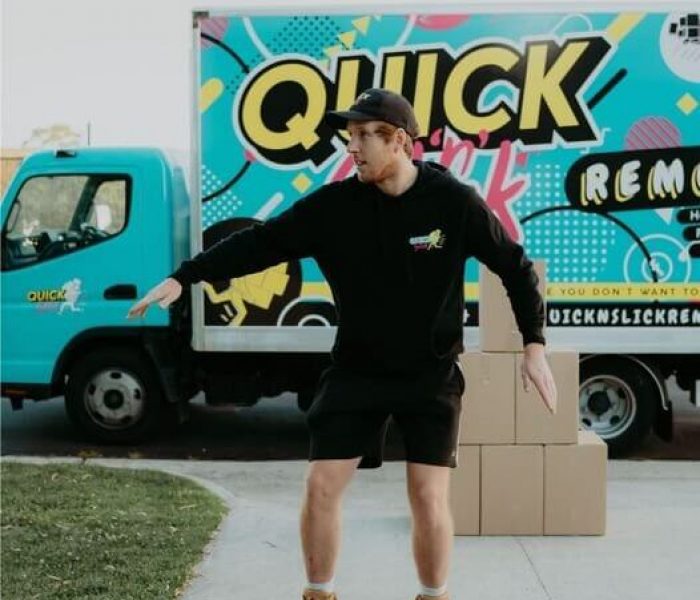 What made you chose the removal profession?
Dane: "Pretty much fell into it."
Mark: "I had a bit of experience, Dane had the vehicle, the van, we just put two and two together. And we just thought let's give it a go. I was studying Journalism and it was a bit of Part-Time money. I really loved my first boss. I thought it would be a job I hate. I actually didn't want the job, and then I thought I'd give it a crack. 2 Years down the track I thought 'yeah this is actually quite enjoyable'. It is such a rewarding work, people like having you around."
Dane: "You genuinely feel like Superman at the end of the day. People are grateful, they call you an angel, no one calls me an angel ever. Not afraid of hard work, either of us."
Tell us about your gorgeous mascot
Dane straight away says: "Lola."
Mark starts laughing.
Dane: "Lola is actually my mums dog, so when I did lose my job through Covid I was living in the city and I decided to come back and live with my parents, as I did not know what to do. Which was the best decision of my life, moving back to my parents. (I get to) hang out with Lola, who was only a puppy and she is just a beautiful friendly little French Bulldog who just won't listen to you. She loves pats and people, heart of gold."
Mark: "She is definitely our best supporter."
Dane: "When I get home after a rough day its actually so good to see her. When she is there after a bad day it's just nice. She's good, hopefully we can take her on the truck one day but like I said she doesn't listen." Everyone started laughing.
Mark: "After a bit of training she will be ok."
Dane added: "Yea, we got a job with a girl, she said 'I saw your mascot, the French bulldog, I have one, too".
Anne commented: "She is really adorable, as soon as I saw her photo, I had decided I have to ask about her."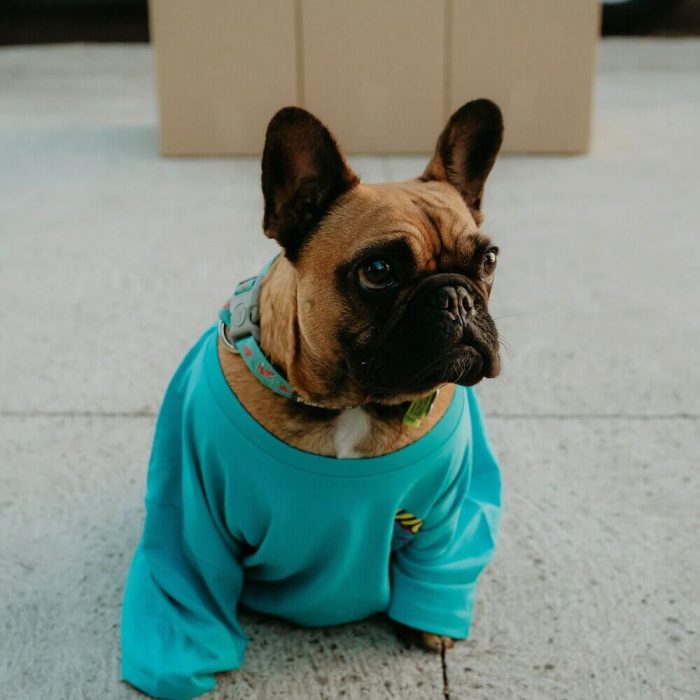 If you had one piece of advice to someone just starting out in business, what would it be?
Dane: "I think 'Branding' itself is very important and 'thinking out of the box'. This is probably touching on one of your questions before, a lot of other companies have a plain white truck and one little logo like "John's Removalist" and when you look at that truck no one is going to remember that.
And with our truck you'll never forgot it "Quick'n'Slick" you'll never forget it. I just think 'think outside the box', you don't need to stick with normal business norms. Work hard, research, read, join Facebook groups for your profession, or for whatever it is you want to get into.
We are part of a removalist page and on there are some of the grumpiest men, but all their complaints and stuff you can't take that in and change it. Taking in as much information as possible and be humble.
Make mistakes, you are not the smartest person in the world. And just be happy, be happy that you are there and that you are doing business."
Dane added: "If you pick a business partner make sure you pick a good one. Mark and I are best friends, we've lived together and I think we knew that this is was going to be alright."